Ongoing Public Programs
In addition to its on-trail and East Bay Regional Park District special events duties, the Volunteer Trail Safety Patrol is conducting several ongoing public programs that are related to trail safety and crime prevention.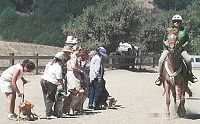 Partners on the Trail is a monthly "meet and greet" to help socialize dogs and puppies to horses. It's a great opportunity to introduce a dog to horses in a calm, controlled environment. Partners on the Trail is held from 10:00 to 10:30 am on the first Saturday of every month (weather permitting) at the parking lot for Redwood Regional Park's Hunt Field, at 11500 Skyline Blvd in Oakland (between Joaquin Miller Blvd and Redwood Road). It is sponsored by the Volunteer Mounted Patrol, the Oakland Dog Owners Group (O'Dog), and the Metropolitan Horsemen's Association (MHA). Dogs must be leashed. Weather permitting: sessions are canceled due to rain or high winds. For more information, see the Oakland Dog Owners Group (O'Dog) Web site, call Nancy Rieser at 510.465.0928, or send an email message. Refer also to a newspaper story about this program that appeared in the San Francisco Chronicle.
The Volunteer Trail Safety Patrol and East Bay Regional Park District Police Department Bicycle Bell and Bicycle Helmet educational program provides bicycle bells and helmets at no charge to children 7 to 14 years of age throughout the regional trails and regional parks in Alameda County and Contra Costa County. Volunteer Trail Safety Patrol members fit children with helmets and install bicycle bells on their bicycles. The parents and children visiting the parks are provided with brochures and literature on bicycle safety, bicycle etiquette, personal safety and related laws.
The Volunteer Trail Safety Patrol encourages everyone to wear a helmet when on wheels or or horseback. See "Use Your Head! Wear a Helmet".
California state law requires that all bicyclists, inline skaters, roller skaters, skateboarders, scooter operators, and their passengers (including those being towed) who are under age 18 wear approved helmets while riding on trails and roadways. To prevent injury, the District strongly recommends that all park visitors using such devices wear helmets.