Search and Rescue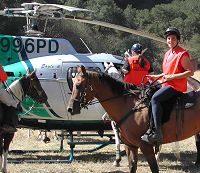 Members of the Volunteer Trail Safety Patrol's Search and Rescue (SAR) unit search East Bay Regional Park District lands for missing persons when mobilized to do so. In addition, this unit may assist in the rescue of injured persons and preserve the integrity of accident or crime evidence. In an organized search of District lands, this SAR unit implements the District's primary responsibility for the search and is usually supported by one or more county sheriff SAR units.
Each member of this unit is also a member of one of VTSP's patrol groups and meets that group's membership requirements; any member of VTSP can join SAR. In addition, SAR members meet one evening each month for business and training, and schedule more extensive training sessions on some weekends. This group trains with the SAR units of the Alameda County and Contra Costa County Sheriffs and collaborates with such organizations as Bay Area Search and Rescue Council (BASARC) and California Rescue Dog Association (CARDA). SAR members are encouraged to obtain First Responder and CPR certifications.
The SAR unit meets on the third Wednesday evening of each month except December.
The Volunteer Trail Safety Patrol's SAR unit has been supporting the East Bay Regional Park District since approximately 1995.